Are you prepared for winter? Ready or not, here it comes! With chilly days and unpredictable weather on the way, it's important to do everything you can to make sure that everyone in your house makes healthy choices to maintain their health.
To keep your family well through the upcoming cold months, check out our
Winter Wellness Set
. Paired with a few common sense wellness suggestions, these tips will go a long way to help you stay healthy all winter long.
Lather your hands with soap for at least 20 seconds before rinsing.
Avoid touching your eyes, nose, and mouth as much as possible throughout the day.
Staying hydrated is important for keeping mucous membranes moist, so they can effectively fight off irritants.
Shoot for 64 ounces per day for effective hydration.
To warm up when it's cold outside, drink herbal tea with honey and a drop of
Thieves® Vitality™
.
Provide your body with proper nutrients
M
aintain your wellness by eating healthy to get the vitamins and nutrients your body needs.
Seek out fruits and vegetables that are nutrient-packed and seasonal, like squash, hearty greens, and cauliflower.
Help support a healthy immune system by adding a supplement to your daily diet. Get desirable polyphenols, carotenoids, and optimal amounts of vitamin C in a convenient chewable tablet with
Super C
.
Supplements like
ImmuPro™
contain ingredients to help support a healthy immune system and provide the body with antioxidant and nutritional support.*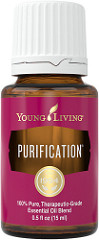 Lack of sleep can cause stress, which weakens the immune system. A well-rested body is better able maintain its wellness, so shoot for 8 hours per night.
Create a calm atmosphere in your room in the evening. Banish electronic devices and diffuse your favorite essential oil to invite peace before bedtime.
Thieves®
,
Lavender
, and
Purification
are all great choices.
If you do happen to get sick, reach for the remedy nature intended!
Thieves®Cough Drops
are a great way to offer comfort by relieving coughs, soothing sore throats, and cooling nasal passages.
What essential oils do you reach for when it's cold outside? Let us know in the comments!
***
Any suggestions made on this blog are very specific to Young Living essential oils and should not be used with oils from another source. Statements made on this website about Young Living Essential Oils have not been evaluated by the FDA. These products and information are not intended to diagnose, treat, cure or prevent any disease. Anyone suffering from disease or injury should consult with a physician. If you are currently on medication, please DO NOT STOP.
Patti Friday: Reporting from inside 'The Art Dept.' at the international 'Embassy of Ideas'